"It's come together really organically," Russell, a student of Sydney Dance Company's pre-professional year, added.
Given just two weeks to rehearse their performance the young talent has risen to the occasion, achieving surprising synchronicity.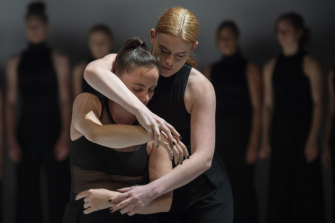 "You get connected to this group energy … the group energy just consumes you," said Russell.
That same energy will undoubtedly capture the audience too, as the mass of dancers flow around the stage. They move between items in harmony with the throbbing soundscape, produced by acclaimed audio-visual designer Robin Fox.  At one moment, the dancers move as a monolithic creature. The next, they are bouncing back and forth or leaping over one other.
"There's barely anything in this world that has 50 contemporary dancers on stage," Parent said.
"I just want people to see the sheer number of dancers working together."
For Lake, who is a Melbourne-based choreographer, the massive passion-project was "a moment of ambition".
"I've always liked working with scale… I feel like I've been working towards this piece for decades."
Inspired by both the human and natural worlds, Lake said she was captivated by the idea of "being small parts of a big machine."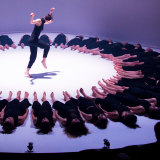 The movements are inspired by behavioural phenomena, taking full advantage of the floor space and her dancers' momentum. Whether emulating waveforms or enmeshed in push-and-pull conflict, the dancers symbolise both the beauty and ugliness of crowd behaviour.
Employing relatively inexperienced dancers can be a challenge for many choreographers but Lake praised the "incredible capacity and focus" of the students, who were ready to run the show after just five days of practice.
The ensemble is gathered from students of Sydney Dance Company, NAISDA Dance College, New Zealand School of Dance, and Ev & Bow. Lake described the process as "like a social experiment".
"That's a beautiful byproduct of this project for me, is the camaraderie across the group."
Colossus' enjoyed its inaugural season at the Melbourne Fringe Festival in 2018. Though it received a warm reception from audiences, Lake didn't expect Colossus to be taken up by the 2020 Sydney Festival.
"I never thought it would happen again, because it's so big and unwieldy. I thought 'this is a one-off'."
Loading
Lake's major works have been exported to audiences around the world, and despite the scale of the undertaking, Colossus is no exception. There are plans to take the project to Switzerland in April, with performances in Paris and Mexico also in the works.
With new dancers in every city, Lake said each performance has "such a different flavour".
Sydney audiences can experience Colossus at Carriageworks from 16-19 January.
Eilidh Mellis is an intern journalist at The Sydney Morning Herald.