Since the listener poll went from all-time favourite songs to favourite song of the year in 1993 – that is, a full generational 26 years ago for the hard-of-counting – there had been male singers, male producer/DJs, all-male-bands, mostly male-with-a-female-member bands, male hip hop crews, and lead male-with-backing/co-vocalist female acts, atop the poll.
But no woman on her own could crack the boys-boys-boys mentality of a listenership whose inherent conservatism – as reflected in the multitude of straight-line rock bands, soft-singing sad boys, virtually no freaks or noise merchants, and a horror at the thought of Beyonce, or, heaven forbid, Taylor Swift getting a spot – saw them stubbornly refuse entreaties and enticements that virtually became begging from triple j staff.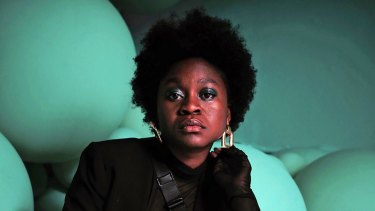 The network's spokespeople were reduced each year to pointing to its high female-content playlists, highlight the many women through the full 100 and glorying in the nearly-there such as Amy Shark at number 2 in 2017. It was a little embarrassing.
And when one of the best songs of last year, Final Form, from Sampa The Great – originally from Zambia, Botswana and Sydney, and now in Melbourne – couldn't get higher than 89 during Saturday's countdown, it was looking like another grim result.
Loading
But look now.
Not just a woman at the top – with a moody, groove-rich and excellent bit of pop to boot – but another four in the top 10: Mallrat (Brisbane's Grace Shaw); the international hit of 2019, Tones And I (Toni Watson, from the Mornington Peninsula); G Flip (Melbourne's Georgia Flipo), and Thelma Plum (from Brisbane).
Not just women, but local; not just triple j-popular, but nation-wide sellers. Pop a few more fizzy bottles, Tasmanian, for Eric.
Having broken down this barrier, the next challenge will be national honours for a virulently anti-feminist defender of the hitherto under-represented demographic of white, middle-aged male – and convicted paedophile.