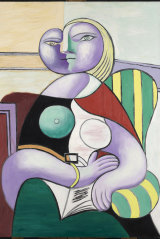 Mr Mitzevich would have welcomed the opportunity to extend the exhibition period beyond its closing date of April 13 if the show wasn't already touring to the National Gallery of Singapore.
Instead the exhibition would open early and run late in the last four weeks if demand permitted, Mr Mitzevich said. "We can open late or open early and we have that as an option in the final four weeks of the exhibition if we feel we can and if there is a demand from the general public."
The upside of Australia's "unprecedented summer" was the chance to see, without queues, an exhibition that would probably never travel to Australia again.
"If you want a wonderfully leisurely calm Saturday or Sunday or even the middle of the week, now's the time to visit the National Gallery," Mr Mitzevich said. "You can see things without the crowds being five deep.
"We've got works by Matisse and Picasso that have never travelled from their respective galleries. For the first time, you see two of the biggest figures of the 20th century rubbing shoulders with each other and you see why their work evolved in the manner that it did.
Loading
"It's such a direct exhibition and you can see why Matisse or Picasso did the things they did in their work, each influenced by the other. It's more a journey of inspiration than a boxing match. They spurred each other on and pushed their art."
Coronavirus had had a marginal impact on the gallery with international visitors comprising 2 per cent of its audience, Mr Mitzevich said.
"Over January our visitation was down 50 per cent, and that wasn't just the gallery. We've been speaking to many of our cultural and tourism colleagues, and our hotel partners and across the board in Canberra, those stakeholders all experienced a similar impact."
The gallery had estimated 150,000 visitors would see its summer blockbuster comprising 60 paintings, sculptures and costumes. A sustained slump in visitor numbers would have implications for the NGA's budget but it was too early to predict such an event, Mr Mitzevich said.
"There's still lots of time, there's still weekends and Easter and I would encourage people to plan their trips to Canberra to see this exhibition."
Linda Morris is an arts and books writer at The Sydney Morning Herald