"I've finally found a place where I know why I'm a comic," he said. "I never saw myself as a performer [when I started out], I was a writer. But now, later in life, it comes more naturally to me. I get great satisfaction from making myself understood."
So the show is kind of a Socratic monologue then?
"It's a bit f—ing funnier than that," he barks in that unmistakably Elton voice. "I don't think Socrates mentioned quite as many human orifices as my routine turns up."
Elton – who is married to Australian woman Sophie Gare – has had great success as a writer of novels, musicals, TV series and movies, including Stark, We Will Rock You, Black Adder and The Young Ones, and Shakespeare-themed projects Upstart Crow and Kenneth Branagh's All Is True. But despite his demurrals that it was never really his thing, he was also one of the UK's top stand-ups until he dialled it back to spend more time with his family.
"I toured when the kids were four or five and I missed seven months of their lives," he said. "I never decided to give it up. I just stopped, and suddenly it's been 15 years."
His return to the stage has apparently been well-timed, the difficulty of satirising modern politics notwithstanding. Britain is deep in the throes of the long-running Brexit saga and, he says, "it's in a very emotional mood at the moment, and my routine provides a sort of release".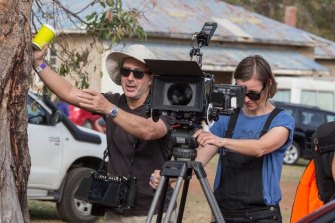 He has enjoyed some of the best reviews of his life, not that he's putting too much weight on them. "I've had so many shitty reviews over the years, I can't really quote the good ones."
Plenty of those bad reviews have come from Australia, where his TV show, Live From Planet Earth, was savaged before being cancelled after just three episodes, and his 2017 movie, Three Summers, was shellacked by critics.
At times, he's felt there was something a little personal in all that. "There's been a bit of 'who the f–k do you think you are, coming here', which is weird because I've been coming here since 1988, and paying my tax in Australia for many, many years.
"I think the English are the last ethnic group it's still woke to bag," he jokes. "I go to barbecues and I'm still getting blamed for Gallipoli."
Ben Elton will perform in Perth, Adelaide, Sydney, Melbourne, Canberra, Newcastle and Brisbane from April 20, 2020. Tickets on sale Thursday, December 5.
Karl Quinn is a senior culture writer at The Age and The Sydney Morning Herald.