"I was always amazed at the warmth extended to Bob," said the festival's general manager Amanda Jackes, who used to own the cottage before she sold it to Woodford director Bill Hauritz, who became a great friend of the former PM and his wife.
"He was held in such high esteem here – he wasn't mobbed – as a man in his late '80s he was allowed to have his space at the festival, people respected him and wanted to convey their love and gratitude to him," Ms Jackes recalls. She also remembers his evenings often ended with a rousing chorus of the left-wing anthem Internationale.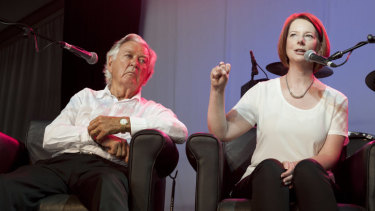 Federal Opposition leader Anthony Albanese will discuss the life and legacy of the late Hawke in a session at the festival, which will mark the Woodfordian launch of Hawke's biography, a work of 40 years by d'Alpuget.
The event comes just weeks after Hawke's eldest daughter Sue Pieters-Hawke told the ABC it would be "foolish" for Australians to change their high opinion of her father in the wake of allegations made by her sister, Rosslyn Dillon, who claims she was raped by one of Hawke's friends and told to keep quiet about it.
Dillon made the claims in the process of contesting Hawke's will and the matter is ongoing.
This year's festival is the 32nd iteration of the six-day event since it started in nearby Maleny in 1987. Ms Jackes, who has been involved since 1988, says some of her proudest moments have been "the audience response to Bob Hawke as he aged". She expects the same respect for his legacy will be present when the festival opens on Friday. 
Performers this year include Kasey Chambers, Emma Louise, Amanda Palmer, Lior and Papua New Guinean singer Ngaiire, as well as returning artists Kate Miller-Heidke, Harry Manx, Electric Fields and Archie Roach.
Festival speakers will include visiting US author of The Biology of Belief, Dr Bruce Lipton; journalist Kerry O'Brien with Noel Pearson; and Indigenous artist Rhoda Roberts.
A full contingent of Celtic performers including Aine Tyrrell and the Irish/Australian group Barleyshakes will perform, with the band's bodhran (Irish drum) player Alan Kelly raking up his 19th festival.
"I've met Bob Hawke. He came to see us at our opening concert at the festival and came backstage to say hi, and has done so every year since," Mr Kelly said. "He was always very personable, as was Blanche.
"It's not just about the music… you hang out with Tibetan monks, do yoga,  talk politics or learn to salsa and do vaudeville. I've gone as a punter as well as a performer and find this festival charges me creatively for the year, and inspires me to be a better person."
Helen Pitt is a journalist at the The Sydney Morning Herald.