It's a case of third-time lucky for Badiucao. The show, Made in Hong Kong, Banned in China (previously titled Gongle), was meant to be exhibited twice before, in Hong Kong in 2018 and again in Sydney this year. Just days before the Hong Kong show was to open, some of Badiucao's family in China were arrested and interrogated and the show was cancelled. In January, Sydney's M2 Gallery also cancelled a planned exhibition.
Loading
Last year, Badiucao featured in the documentary The Artful Dissident, which aired on the anniversary of the Tiananmen Square massacre and in which he revealed his identity for the first time. As well as having his family threatened, he says he has been followed and had his phone hacked.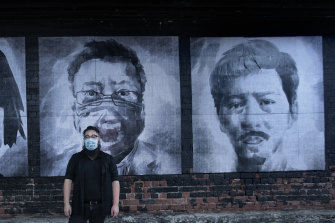 "When we are facing these difficulties, there are obviously two different options," he says. "We can choose to be silenced and pretend the elephant is not in the room. Or we speak up, seeking help, seeking support."
The show also features Tighter chair, a torture chair he ordered online from China for about $400. "It's super cheap – cheaper than the shipping," he says.
Nicknamed the tiger chair, Badiucao says it is regularly used by Chinese police. He modified it by adding rocking chair legs, highlighting the fact such torture remains a threat for dissident Chinese citizens regardless of their age. According to Amnesty International, China is a major exporter of torture equipment.
Now an Australian citizen, Badiucao is concerned that the censorship he left China to escape has infiltrated Australia. He calls on Scott Morrison to challenge the Chinese government about its human rights abuses. "Doing your job is not about shaking hands with bushfire victims in front of camera but [to] protect and rescue Australian citizens."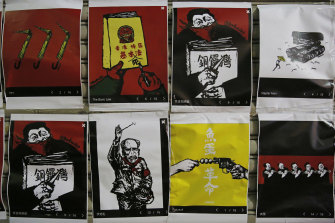 He refers to the plight of the Uighurs and specifically Sadam Abdusalam, an Australian Uighur father who can't be united with his family in China.
"My understanding of art is it is a language, it is a vehicle for me to deliver messages and I have these messages to tell the world about China and human rights, about democracy and freedom," says Badiucao.
Founded by Kent Johnston, the Can't Do Tomorrow Festival is a massive undertaking featuring paintings, murals, photography, sculptures, projections and installations by street artists. Across four floors, it runs for nine days, with panel discussions, food and drink and music.
The Can't Do Tomorrow Festival runs from February 20-29 at 12 Elizabeth Street, Kensington. See cantdotomorrow.com
Kerrie is a senior culture writer at The Age and The Sydney Morning Herald