Are we ready to revive this fight, again? Is it even still relevant, after the cities have been through 33 years of evolution since the play was written? And if the cliches still ring true, how depressing is that?
Sam Strong is directing a revival (and re-examination) of the play for Melbourne Theatre Company, in honour of Williamson's 50th professional anniversary. He says it's one of the playwright's best: the morality tale of a screenwriter torn between art and money, and the cities that stand for each.
"It speaks to a specific era and culture… but what always attracted me is the way it speaks across time," says Strong. "In some ways the reputation of the play is the victim of its own clarity, it's 'about Sydney vs Melbourne and art vs money and the 1980s'. All those things are true but this is a much broader story about how you maintain your integrity in the face of temptations.
"How do you stay selfless in a world tempting you to be selfish, stay faithful in a world tempting you to be duplicitous? How do you stay authentic in a world where people are succeeding based on their inauthenticity?"
The latter, in particular, will ring a bell or two today.
"The moral centre of this play is outrage at someone succeeding based on chutzpah and confidence."
Strong is a big believer in reviving plays from Australia's theatrical canon – he's put on Andrew Bovell's Speaking in Tongues, Gordon Graham's The Boys and John Romeril's The Floating World. The best companies produce established classics "in dialogue" with new works, he says.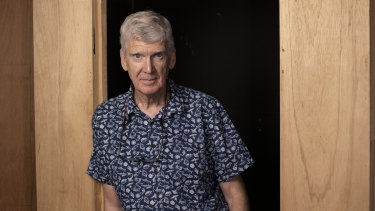 "We can sometimes have too great an amnesia about our immediate past so the current generation don't have a great idea what the previous generation did," he says.
That said, he's given Emerald City some subtle updates, agreed in consultation with Williamson. Strong is coy about exactly what's changed.
"Parts of the sexual politics of the work have a crassness that belongs to the late '80s," he says. "We had ongoing discussions about how to best work with things that in the past might have been on the verge of politically incorrect but in 2020 might be over the line."
Loading
Williamson didn't mind.
"You might think that having a 50-year career and 700 productions or whatever would slightly dampen your enthusiasm or harden your spirit. But what's amazing about David is in a rehearsal room he's just as nervous about the reception of an existing classic as he is about a brand new play."
And the urban rivalry? Strong says Williamson's observations and portraits of the two cities still capture the essence of both – certainly in their theatrical cultures.
"It's fascinating how the cultural heart of a city can exist notwithstanding three decades and really significant change," Strong says. "It's still true that Melbourne favours intellect over spectacle, and at its worst can be slightly self-important.
"And Sydney probably favours spectacle over intellect and at its worst can be kind of addicted to the novel and shiny."
Emerald City opens on March 6 at Southbank Theatre.
Nick Miller is Arts Editor of The Age.