Western Australia's Birds of Tokyo followed Magic Dirt on the hugely impressive Day on the Green stage, opening with Plans from their 2010 self-titled album and closing their eleven-song set with Lanters from 2013's ARIA chart topping March Fires album.
Paul Kelly's band, featuring the glorious guitar sounds of Ash Naylor and sublime vocals of Vika and Linda Bull, took the late afternoon vibe to a whole new level, playing crowd favourites Before Too Long,  To Her Door and Dumb Things among a sizzling set. Coming on before Chisel is no easy gig but Kelly sits in the same rarefied air as these Australian rock stars and it showed.
By the time Jimmy Barnes, Ian Moss, Don Walker, Phil Small and Charley Drayton were punching into the start of Standing on the Outside, the massive crowd was all in it together, singing along, smiles from ear to ear.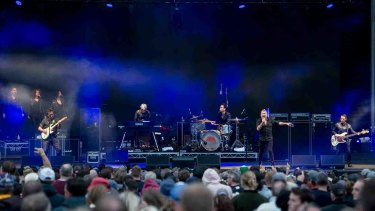 Releasing new album Blood Moon last month – their third long player since 2012 and ninth studio album overall – has not only been well received but clearly invigorated the band. Pre-tour talk from Barnes about this maybe being the last chance to catch the band live simply doesn't add up. Going on this performance, it's like Cold Chisel could be just hitting their stride.
Choir Girl, going all the way back to 1980's much-loved East album,  sounds as strong today as when it was first released, and Barnes' voice, miraculously, hasn't lost much over the same period. He still rocks hard on Rising Sun,  soars when it's his turn on Saturday Night (a standout this Saturday night) and simply roars like a hurricane on You Got Nothing I Want.
And when Ian Moss wasn't casting a spell over the crowd with his extraordinary guitar playing – a lifelong combination of hard work, passion and sheer brilliance – he too was throwing down some of Chisel's most famous lyrics. My Baby, also from East, another genuine highlight in Bow River and When the War Is Over (written by late drummer Steve Prestwich) were among the unforgettable moments of this performance.
Phil Small on bass and Drayton on the drums bring the groove in spades to these songs, including new tracks such as Gettin' the Band Back Together and Killing Time, which also suggest Cold Chisel are far from done.
And let's not forget Don Walker, perhaps the wisest, slightly older head and chief songwriter of this incredible group, who sat perched at his keyboard looking like he'd just climbed off a motorcycle in his black leather jacket.
Walker's keys on the opening of Letter To Alan speak for themselves. He's a master of his craft and a major reason why Cold Chisel so fondly remain close to the hearts of many, many Australian music lovers.
In all, there were 27 ripping songs played this night, none the least of which included the tough-as-nails Shipping Steel and a truly memorable Forever Now. Then, of course, there was Khe Sanh, which brought the biggest sing-along of the night, a rousing Flame Trees and, closing their second encore, a rollicking  Goodbye (Astrid Goodbye). Song after song, all soaked up by an adoring crowd.
No, Cold Chisel ain't done yet, not by a long way. And that's a mighty fine thing too.
Martin Boulton is EG Editor at The Age and Shortlist Editor at the Sydney Morning Herald