This day, between tours, was one for preparation. A knock at the door drew an apology.
"Something in my apartment broke and it needs to be fixed before I go to Australia," Neuwirth explained.
"[But] I'm constantly working on things, you know, as a creative person I think you are on all the time."
And what is the artist working on now? There are hints of "musical things" – the details of which are still under wraps – and poetry writing.
"I'm figuring out concepts for … TV shows, music videos."
Conchita Wurst emerged in 2011 as a kind of "first lady" figure, the self-described diva amassing an international following among the LGBTI community and beyond after Eurovision – along with homophobic criticism.
But there is much more to Neuwirth than glamorous ballads.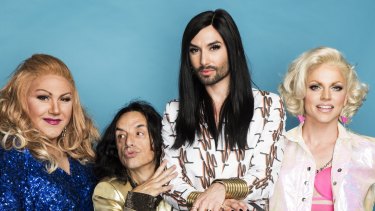 "As a first lady, you have certain things you do and certain things you don't," he said.
"Conchita was always very polite, very put-together, very thought through.
"I mean this is a side to me as well, but [there] is just so much more, and not even that, but also in a musical kind of way … my interest is so much wider."
A new project, released late last year, eschewed orchestral scores in favour of electronic pop and a new name: Wurst.
"I thought why not come up with music that I love listening to in my private life as well," Neuwirth said.
"It's so beautiful to see that everybody still follows my journey, because I definitely know that people miss Conchita."
Loading
Which is exactly who Australian fans will be treated to next week.
Conchita will be joined in Brisbane on Wednesday, February 26, by "dear friend" and Australian cabaret star Trevor Ashley, along with conductor Michael Tyack and the 38-piece Camerata Queensland Chamber Orchestra.
"I can release Conchita again, because it is an orchestra concert I need … the full-length gown, and I need the beautiful make-up and the polished hair," Neuwirth said.
The Queensland Performing Arts Centre date will be the first of an Australian tour featuring a range of the pair's greatest hits – performed both solo and together.
Eurovision hit Rise Like A Phoenix will be among the numbers, as will covers of Celine Dion and Barbra Streisand, plus a tribute to the music of James Bond.
The show will travel to Sydney the next day as part of Thursday's Gay and Lesbian Mardi Gras festivities, before gracing Melbourne's Hamer Hall on Friday.
Award-winning singer-songwriter Kate Miller-Heidke will also appear as a special guest.
And it's not just Neuwirth who has changed since Eurovision.
"The first lady has kind of turned into a go-go dancer," he said. "But she's still glamorous."
Matt Dennien is a reporter for the Brisbane Times.