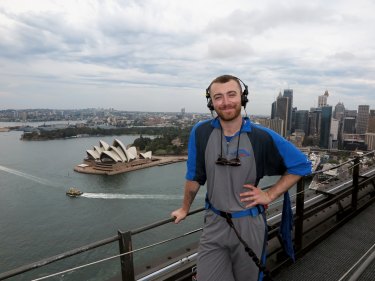 In September last year, the 27-year-old artist declared themselves non-binary and asked fans to use the pronouns they/them when referring to them.
Considered one of the most influential LGBTIQ+ voices in the music industry, PS can reveal the Grammy-winning singer will also march alongside the 12,600 parade participants. The Sydney Gay and Lesbian Mardi Gras has always had star pulling power. In 2018 for its 40th anniversary singer Cher performed at the party and watched the parade from the tiered platforms of Taylor Square's Diamond Club, even appearing in a selfie taken Malcolm Turnbull, alongside the then-PM's wife Lucy and NSW Premier Gladys Berejiklian. Other big names such as George Michael, Cyndi Lauper, Boy George, Olivia Newton-John, Kelly Rowland, Adam Lambert and RuPaul have also been Mardi Gras special guests, but not taken part in the parades.
But Smith will follow the lead of gay icon Kylie Minogue who last year made a surprise appearance clad in gold walking in front of a float celebrating Neighbours.  They will also walk along Oxford Street with the revellers.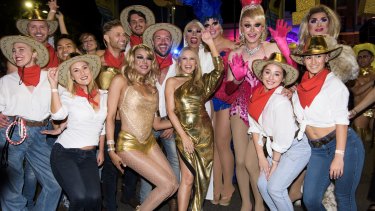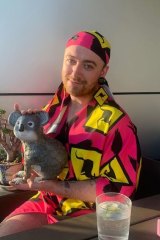 "They have always wanted to come to the Mardi Gras, and considering last year the Merriam-Webster dictionary in the US declared 'they', the inclusive non-binary pronoun, as word of the year, the timing couldn't be better for the transgender/non-binary community," a Mardi Gras spokesman said.
Which of the 191 floats they will grace remains a tightly kept secret. As is the costume to look for: will it be the hot pink shirt covered in yellow kangaroo crossing signs with matching earring they appeared in on Instagram, clutching a koala?
Or their red high-heeled female alter ego, who they appeared dressed as with their publicist Trent Titmarsh this week?
If they choose to go shirtless, keep your eyes peeled for their many tattoos, which include the words, "honestly", "alone" and an illustration of a heart by Canadian Instapoet Rupi Kaur.
Smith's wedding finger is also tattooed with an equal sign in honour of gay marriage.
It's unlikely Prime Minister Scott Morrison, even if he were to attend the parade, would be snapping a selfie with Smith, a la previous PM Turnbull did with Cher (the singer had to later apologise to fans upset that she would pose in a photograph with Turnbull because of his government's role in the same-sex marriage debate).
This year's Mardi Gras special guests are no strangers to Sydney's giddy heights. In 2018 Smith and then-partner, 13 Reasons Why actor Brandon Flynn, did the Sydney Harbour Bridge climb, Smith even doing a few dance moves to display their fearlessness. They also ate at Sydney's highest dining destination, the 304-metre-high Sydney Tower restaurant.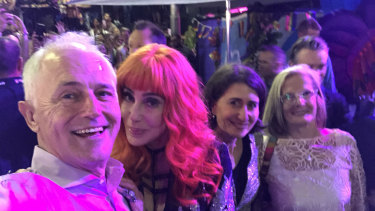 Tonight will be the last Saturday night service for the revolving restaurant, which opened in 1981 at what we then called Centrepoint Tower. It was billed as "setting the quality benchmark for revolving restaurants worldwide". The Trippas White Group reports an average of 250 proposals occur at their restaurant each year, and they expect a few ladies to "pop the question" there tonight. According to leap-year tradition, February 29 is the day women can "officially" ask their partners for their hand in marriage.
Restaurant staff, still reeling from Smith's last visit, are hoping the Grammy winner will dine with them before the restaurant closes on Monday for a total refurbishment.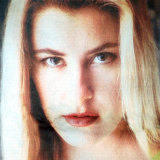 Class of her own
The private funeral of etiquette expert and educator June Dally-Watkins took place yesterday. Her death last weekend at 92, led to a flood of tributes from former graduates of her deportment school. More than 300,000 Australians have passed through her classes on everything from posture to politeness, including Channel 9's Catriona Rowntree and Seven's Sonia Kruger. Miss Dally, as she was affectionately known, set up Australia's first modelling agency in 1950 with a roll call of Sydney models on her books. Some went on to become household names including: Miss International 1962 Tania Verstak, actresses Delvene Delaney, Paula Duncan, and Maggie Eckhardt.
Daughters of some of Australia's best families attended her local version of a Swiss finishing school, such as Arkie Whiteley, daughter of artists Brett and Wendy Whiteley, and, Ann Peacock, daughter of former foreign minister Andrew Peacock and Lady Susan Renouf. Not to mention athletes such as the Lithgow Flash Marjorie Jackson and golfer Jan Stephenson. Then there is the tragic case of the former JDW modelling instructor Caroline Byrne who was found dead at the bottom of The Gap in 1995. She became the centre of a murder investigation and numerous court cases. Miss Dally was a steadfast supporter of the Byrne family during this time.
ABC chairperson Ita Buttrose, who also wrote  A Guide to Australian Etiquette, remembered her friend warmly: "June always felt people should smile more – a smile is welcoming, it is friendly, and it lights up your face," she told PS.
Cat whisperer meets preference whisperer
Readers may remember we brought you the story of Gus the cat who won the cat category in the Scotland Island dog race on Christmas eve last year. Gus's owner, Glenn Druery, known in political circles as the preference whisperer, responsible for the election of minor-party candidates such as senators Derryn Hinch, Jacqui Lambie and David Leyonhjelm, reports that since the feel-good feline story broke, it has gone feral rather than viral. "After the race, Gus was the most popular cat in the country, but soon he may be the most popular cat in Japan too, maybe even the world," Druery told PS.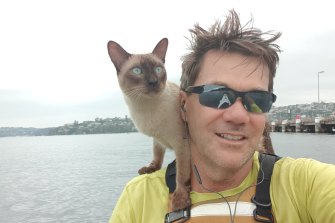 This month Mitsuaki Iwago, known as Japan's version of David Attenborough, has been in Sydney with a 10-person strong TV crew from public broadcaster NHK, to film an episode of his popular cat  show. The Japanese wildlife photographer who has travelled around the world for stories, is considered the "cat whisperer" of the animal world. The Gus episode will air next week. "He obviously loved cats, and was great with Gus – he could see when he was tired and would agree to pause/paws," Druery told PS.  New Zealand children's author Maria Gill also wants to include the story of the one-year-old Tonkinese cat in a book on 30 Australian and New Zealand animal tales. The author of more than 60 children's books intends to include "Australia's most famous cat" in the book, alongside the story of New Zealand Prime Minister Jacinda Ardern's cat Puddles. She was known as the "First cat" until her untimely death when she was hit by a car in 2017.
Singo sings Crews' praises
A former Fort Street High footballer, better known as adman John Singleton, was busy this week delivering his five-point plan to save rugby. Next week he'll be devoting some of his legendary energy to a different cause: the red carpet premiere of the documentary about his mate Reverend Bill Crews, in which he also stars.
A few years ago the 78-year-old advertising legend was approached for advice by actor Warwick Moss, who had fallen on hard times. Singo sent him to Crews, whose Exodus Foundation cares for the homeless. The foundation's free Ashfield eatery Loaves and Fishes was set up with the ad man's largesse following a win at the racetrack. Now Moss has made a film about Crews, the 75-year-old national treasure, which will premiere on Tuesday at Events Cinema, George Street.
Filmed over six years, A War of Compassion, follows Crews and offers a behind-the-scenes glimpse at his relationship with Singo. "You can't help but follow Bill's lead: he's the most selfless bloke I have ever met in my life," says Singo.
Wills' right royal artwork
Former Coca-Cola Amatil boss, and former company board member at Fairfax, Westfield and Transfield, Dean Wills is selling his North shore trophy home. The six-bedroom Belrose manor boasts a 12-car showroom-style garage, once home to his classic car collection, in addition to a caretaker's cottage, pool and floodlit tennis court.
The home was once frequented by high-fliers like Frank Lowy and colourful sports identities such as Jack Brabham and Wayne Gardner. But it's the work of his artist wife Margaret, who died last year, which is the star attraction. Some of her work hangs in Buckingham Palace, after the Duke of Edinburgh commissioned her to paint a series on the Queensland outback. PS spies say Prince Philip first saw her work in the Coca-Cola Sydney boardroom in 1991. Reportedly so taken with the way she captured the Australian bush, the Duke asked his private secretary to arrange a commission of two of her works which now hang in the royal household. Tennis star and art lover Martina Navratilova once declared how thrilled she was to have purchased one of Wills' paintings after competing here. Hopefully, tennis-loving Elton John is reading and could pick himself up a Sydney trophy home with tennis court, and get a few collectible paintings to boot.
Helen Pitt is a journalist at the The Sydney Morning Herald.