The Espy's venue program manager, Shaun Adams, said he was glad to play some small part in supporting the many volunteers and support services on the front line this fire season.
Fellow Falls Festival artists Halsey, Holy Holy, Ali Barter, Yungblud, Baker Boy, Waax and G Flip performed sideshows earlier in the week, while several others planned New Year's Eve gigs.
G Flip, also known as Georgia Flipo, was Triple J's 2018 Unearthed artist of the year, winner of the ARIA Emerging Artist Scholarship and among this year's Hottest 100 frontrunners. Fans who packed out Northcote Social Club emptied their wallets and pockets for the cause, with Flipo saying she was still counting all the cash but expected to have raised $10,000 for the CFA.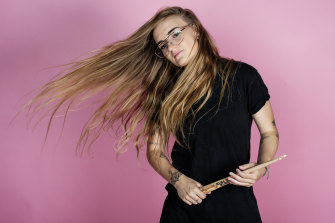 "The show sold out in 20 minutes! The room was full of people who dig my tunes and Falls punters," she said. "During a song I walked around with a hat to collect money and filled four hats full of cash. Everyone was getting around supporting the CFA, it was beautiful to see."
More money is expected to aid emergency services after Aussie rockers Amyl and the Sniffers and Camp Cope DJ-duo Georgia Maq and Kelly-Dawn Hellmrich take to the stage on New Year's Eve at Globe Alley; while Lime Cordiale perform at the Croxton Band Room and These New South Whales hit up Brunswick's Stay Gold bar.
Loading
"We're keen to jump on board to try and raise funds because there are so many volunteer firefighters putting their [lives] on the line fighting these fires, they're working around the clock buggered and with low resources," Amyl and the Sniffers frontwoman Amy Taylor said. "[I] just wanna be able to help out the fireys … Hopefully we can make some changes soon and I hope everyone's safe out there."
Those keen to donate to Victoria's country firefighters can visit their website for more details.