British-born, she came to Australia aboard the ship Hesperus when she was four.
CHIMNEY POTS
As she grew up near Harvey, W.A., she would walk through the bush telling stories to her young cousins, who were the first to hear of Snugglepot and Cuddlepie.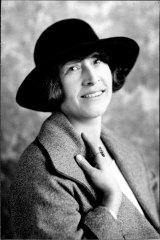 Her first book, though, was not about Australia. At the end of last century she and her mother travelled to England where May studied art in London.
There she lived high in an attic which overlooked housetops and chimney pots.
Sensing the "cruelty, poverty and richness" of London (as she once told a relative, Mrs W. N, Shand, of Huntley's Point), May Gibbs set her thoughts.
The result was her book "About Us" — a tale of a girl and a dog — which was printed in Bavaria, about 1901.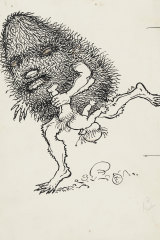 Illustrations in the book show the chimney pots of London with human, and sometimes malign, features.
Living in Sydney when World War I began, she made money for a while by doing quick sketches of soldiers who were bound for war.
Then in 1917 she bought out "The Gum-nut Babies," published by Angus and Robertson.
"Snugglepot and Cuddlepie," "Little Ragged Blossom" and "Little Obelia" followed in 1918, 1920 and 1921.
These four books, in 1940 were put together as "The Snugglepot Omnibus" and were later enlarged as 'The Complete Adventures of Snugglepot and Cuddlepie" in 1946.
During her life May Gibbs wrote 18 books, and sold more than 457,000 copies.
Mr John Ferguson; general manager of the publishing department of Angus and Robertson, said yesterday: "My grandfather, George Robertson, published her first works and we will publish her last.
"A few weeks before she died, we told her that we would be bringing out 'Snugglepot and Cuddlepie' in a new series called 'The Young Australia."
Loading
Her "Bib and Bub" series, first printed as a comic strip in 1925, ran until recently in the Sunday Sun and then The Sun-Herald. She gave up writing only two years ago.
Until a few weeks before her death, May Gibbs lived at her home, "Nutcote," in Wallaringa Avenue, Neutral Bay. Almost to the end, she cared for the formal — not bushland — garden that ran down to the Harbour.