Elle succeeds and follows Warner into a viciously competitive Ivy League milieu, where she finds romantic competition (Lala Barlow), falls for her new flame Emmett (Evan Lever), and befriends a hair stylist with an Enya fetish (Willow Sizer), while trying to impress the sharklike Professor Callahan (Tod Strike).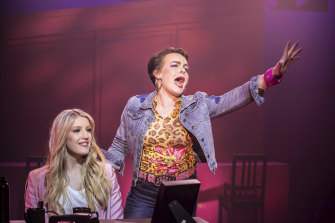 When she joins the legal defence in the murder trial of a high-profile exercise guru (Crystal Hegedis), she uses her legal smarts (along with her sorority membership, fashion expertise and unerring gaydar) to save the day.
Though Hagen isn't ideally cast as Elle – she captures the sharp mind underneath, but not quite the effervescent veneer that this reinvention of the screwball comedy seems to demand – she commands your attention and sings flawlessly.
As her comic offsider, Sizer has a wonderfully throaty jazz voice and a flair for the ridiculous, and the show's pinkest, frothiest moments are buoyed by Elle's "Greek Chorus" of sorority sisters (Sophie Stewart, Tayla Coad, Asmara Soekotjo), who revel in frothy hilarity and snappy choreography, and do much to energise the group scenes.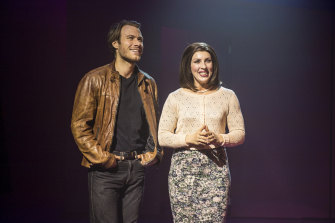 Both romantic male leads strain a little vocally in parts, and the typologies could be more sharply realised. Still, men play second fiddle in the show, and Firman and Lever perform well enough for the rom-com to fly.
You may have to gloss over a few bung notes from the orchestra, too, but they don't detract from everything this production gets right. With the camp precision of the more outlandish comedy, dynamic performances, and the slickness and pace with which this production unfurls, you'd have to be a hanging judge not to deliver a favourable verdict.