He only posted the screenplay on Black List – where writers pay to have their work read and reviewed, in the hope they can improve it and make it more saleable – "because I'd been in a bit of a creative slump and wanted to write something outside of my comfort zone".
Loading
He wrote it, he insists, "mainly for my own purposes, which is why this is so surprising. There's probably a lesson there for me – I should try and write for myself more because it seems to have resonated with people."
Friedhof started writing screenplays more than a decade ago while still working for RailCorp in Sydney. In 2012, when redundancies were offered, he decided to throw caution to the wind. For the son of working-class parents on the Central Coast, it was a bold move.
"I'm an extremely pragmatic person. That's one of the reasons I went off to study engineering – I loved reading, I loved writing but if you don't see an example [of someone doing it professionally] in your life it seems like an impossibility."
A huge fan of both Russian literature and Hollywood cinema, Friedhof opted for screenwriting after watching the first season of David Simon's sprawling TV series The Wire.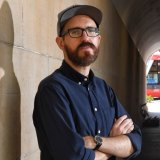 "It gave me the idea that you can write in-depth, meaningful stories for film and television," he says. "And there was something in screenwriting that married well with the engineering mindset – it's more an architectural or blueprint document than a novel."
But he didn't entirely shed his engineering skin. His first screenplay was about Fordlandia; Henry Ford's disastrous attempt to recreate an idealised American town on a rubber plantation in the Amazon. Later he wrote Collapse, another based-on-fact story, about the panicked efforts to rectify a potentially fatal flaw in the 59-storey Citicorp Tower in Manhattan in the late 1970s – without the public or the building's tenants knowing.
"I heard about that when I was studying ethics in engineering at university," Friedhof says. "It's another crazy story and one that always stuck with me."
That one has a producer (Mark Johnson, of Rain Man and Breaking Bad, among others) and even a director (John Lee Hancock, of Saving Mr Banks and The Blind Side) attached. But like everything else he has written, it has yet to be filmed.
Friedhof has made a frugal living by selling options to his work and scored what looked like a big break in 2015 when he won a Nicholls Fellowship from the Academy of Motion Picture Arts and Sciences. "But the next year they announce a new bunch of winners and you're yesterday's news a little bit," he says without bitterness.
His reluctance to boldly proclaim himself a screenwriter is about self-protection, he says. "If you invest your emotional wellbeing in the idea that something is going to get made you're not going to last long in this business. People promise a lot of stuff and occasionally deliver but often don't."
So when do you think you'll finally be ready to get the business cards printed?
"Seeing my name on the opening credits would definitely seal the deal I think."
Karl Quinn is a senior culture writer at The Age and The Sydney Morning Herald.