A dark bronze sculpture stands tall in the beaming sunlight outside the University of Arizona Museum of Art.
"Try and observe some details," Willa Ahlschwede, the museum's assistant curator of education and public programs, says to a group of participants during an art tour.
Despite the sunshine hitting every angle of the sculpture, the artwork still feels somber to some.
They circle the 9-foot-tall sculpture, called "Lessons of a Disaster," admiring it from all angles. Almost immediately, someone says they see birds.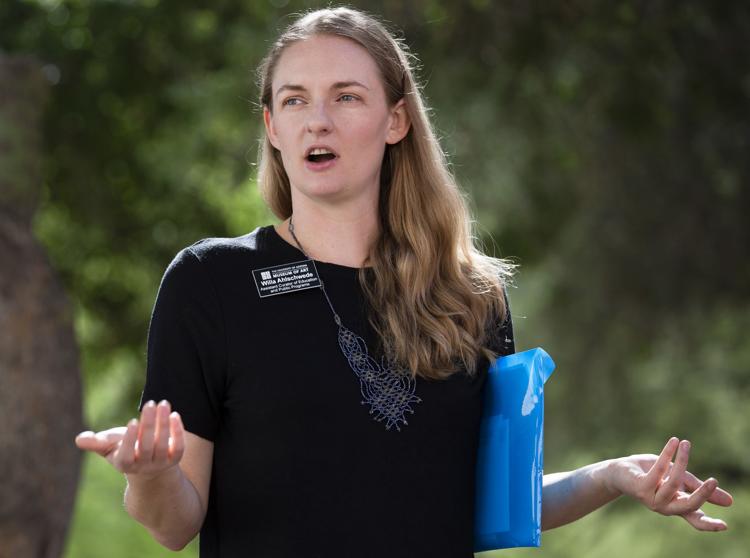 "What are the birds doing?" Ahlschwede asks the group.
"What feeling did you get from this sculpture?" she asks later.
After listening to everyone's observations, Ahlschwede explains the work. It was created by French sculptor Jacques Lipchitz between 1961 and 1970 after his studio caught fire.
The many elements in the piece were created with the intent of symbolizing a greater picture: Something beautiful can come out of a tragedy.
"We started having public art on campus to bring campus to life, as early as World War I," Ahlschwede said later in an interview with the Star.
"Ever since then, people have been interested in having art on campus. In general, the art is to enliven campus and share information about what makes UA unique with whoever is on our campus — students, faculty and visitors."
The University of Arizona is home to more than 40 public art pieces scattered around campus. Here's a look at three of them.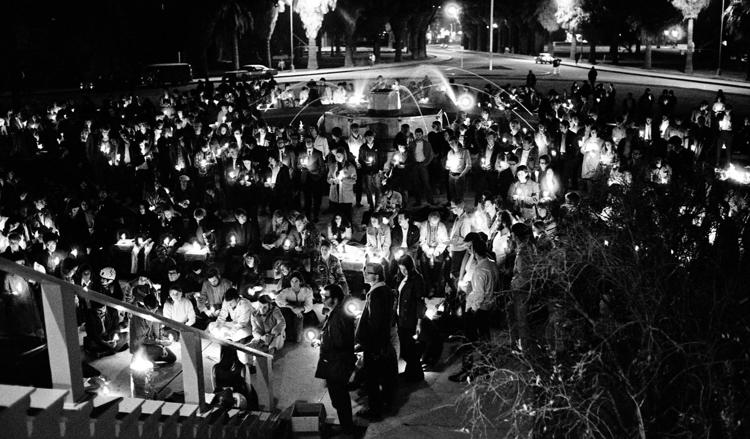 OLDEST PIECE OF ARTThe iconic fountain on the west side of Old Main may not be the oldest piece of art, but it's certainly among the oldest.
The Alexander Berger Memorial Fountain was installed in 1919 and serves as a memorial to 13 UA graduates who lost their lives in World War I, Ahlschwede said. The fountain features 13 spouts of water, one for each soldier.
The fountain was a gift to the school from Berger, an uncle of one of the soldiers. It was dedicated by General John J. Pershing in 1920.
"It was one of the first big undertakings on campus," Ahlschwede said.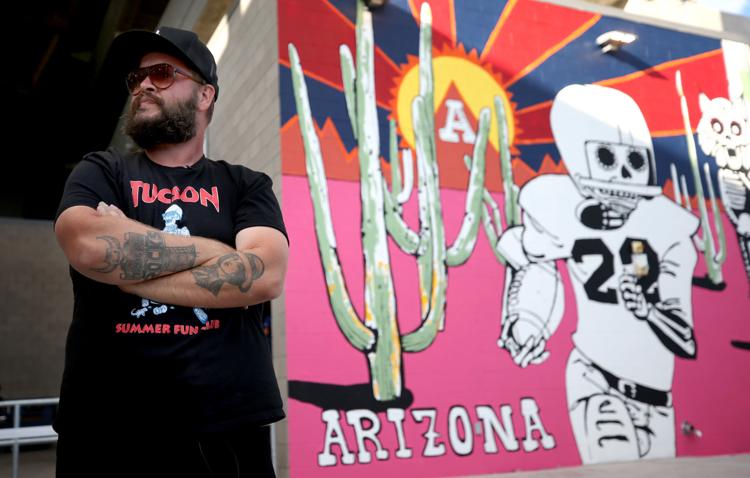 NEWEST PIECE OF ARTLocal artist Danny Martin's UA-themed mural currently holds the place as the campus' newest piece of public art.
The mural, which intertwines UA football and Latino culture, is located on the southwest corner of Arizona Stadium outside of Gate 6. It features football legend Art Luppino, surrounded by "A" Mountain and lots of cacti.
The mural also includes a Wildcat — with a sugar skull face — climbing a saguaro.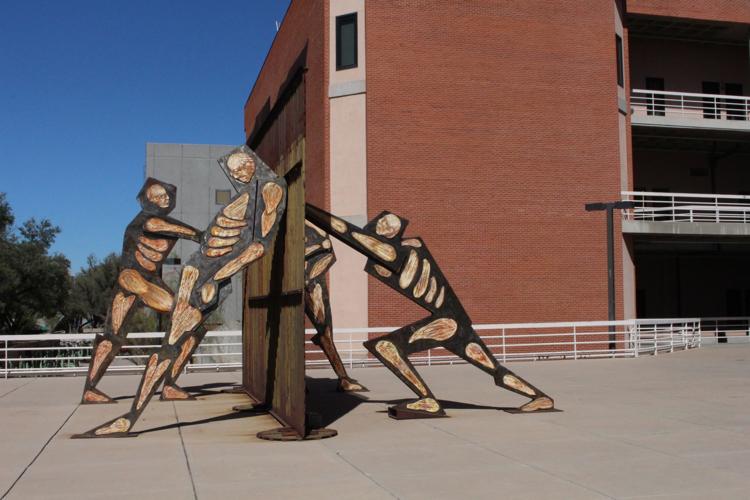 AMONG THE MOST POPULAR"One piece that draws a lot of attention and we get a lot of questions about is the 'Border Dynamics' sculpture," Ahlschwede said.
The large metal piece includes four humans and a border fence. It was created by Alberto Morackis and Guadalupe Serrano under the name Taller Yonke.
It came to the UA in 2003 and currently sits in front of the Richard A. Harvill building on East Second Street near North Olive Road.
According to the museum's website, the piece's original concept included four metal people leaning on the actual border fence. "But concerns about border security caused the project to be scrapped on the U.S. side," the website says, adding that it then came to the UA, originally as a temporary exhibit.
"It's an interesting sculpture that's really open to interpretation," Ahlschwede said. "It makes people ask a lot of questions."
ABOUT THE TOURSThe UA Museum of Art offers free monthly art tours through April. The hourlong tours take participants around the courtyard outside the museum, exploring details of four to five pieces of art.
The museum is currently considering adding another route to its tour, potentially taking participants to other areas on campus.
"The purpose of the tours is to highlight the unique part of campus culture," Ahlschwede said, adding that the UA also offers several other tours around campus that aren't related to art.
Each art tour is led by docents of different backgrounds.
"We're interested in how our tours can be interactive and engaging and help people make their own connections to art," Ahlschwede said.
"That's one of the great things about public art. Everyone can see it and make their own interpretations."
Contact reporter Gloria Knott at gknott@tucson.com or 573-4235. On Twitter: @gloriaeknott.