With his latest film, however, Ritchie says he has "returned to his roots". The Gentlemen is a story of crooked toffs mixing it with East End villains. There are his trademark fast cuts, freeze frames and montages. There is the generically obligatory sentimentality about boxing gyms (turning delinquents into "good lads") thrown, along with some nasty Chinese triad types who are generally referred to as "Chinamen", a term so Ritchily archaic it's hard to know whether it's even offensive any more. It starts in a pub, with someone getting shot at – you wouldn't Adam and Eve it! – when all he's trying to is enjoy a pint and a pickled egg. We could be back in the '90s. To all intents and purposes, we could be back in the '60s.
When Lock, Stock first put the spotlight on the then 30-year-old  Ritchie, there was quite a lot of backbite about his mockney accent, elaborate but randomly deployed vocabulary – "nobody talks like that, Guy!" wrote one exasperated columnist – and enthusiasm for East End criminals, given that his own divorced parents had both remarried into the aristocracy and he was himself the product of a succession of expensive boarding schools. He was expelled from the last of those when he was 15, eventually finding his way into the film industry, but in class-conscious England his moneyed background made him suspect. Was he for real? Did the author of geezer-chic actually know these people?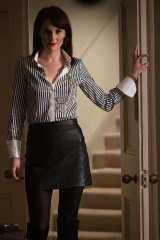 "I'm not in the business of running around town, interviewing villains," Ritchie says. "But inevitably when you're young – well, not always inevitably, but I was interested in subcultures, spending a good deal of my time making myself busy." The word "busy" for Ritchie is a sort of tent; we will never know exactly what it shelters. "I mean, I was much more interested in that world when I was younger and the authenticity of that world than I am now. I think once you understand the rules – and they are curious, the rules, and inconsistent – then you can pretty much fill in the blanks." One thing you realise, he goes on, is that people at either end of the social spectrum share roughly the same values. "How you correspond in terms of being polite and respectful is different, but essentially you're chasing the same goal, even if the culture you reside within isn't that polite. In the case of The Gentlemen, at the top it's different and at the bottom it's different, but there is a sort of paradoxical union that sort of makes sense and doesn't make sense."
Manoeuvring his own way between the classes in The Gentlemen is the drug kingpin Mickey Pearson, played by Matthew McConaughey. Pearson is an American in London who has taken to wearing waistcoats and drinking fine wines, just as Ritchie does. He has cornered what seems to be most of the cannabis trade with a fiendishly clever ploy: the landed gentry rent out their land and their respectability to him so he can grow the stuff unmolested in massive underground laboratories that look like a leafy version of Dr No's bunker.
Essentially you're chasing the same goal, even if the culture you reside within isn't that polite.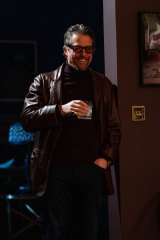 Other roles seem to have been cast gleefully against type: suave Henry Golding from Crazy Rich Asians plays a vicious Chinese gangster defying his own master's rules; Downton Abbey's classy Michelle Dockery is Mickey's moll, teetering on vertical heels and speaking, as one commentator put it, "like Guy Ritchie told her that he'll dock her pay every time she visibly opens her mouth". Most thrillingly of all, Hugh Grant plays a seedy hacker for the tabloids whose snooping has turned up some good information on Mickey that he hopes to turn into cold hard cash.
This is a stroke of genius, not only because the floppy-haired matinee idol of yore is so convincingly seedy but because, in real life, Grant was one of the best known of the News of the World hacking victims. Only a couple of months ago, he hit the headlines for publicly refusing to shake the hand of Home Secretary Sajid Javid because he had been "rude and dismissive" to victims of press abuse in his earlier role as culture secretary. "I think you'll find that Hugh – and I don't want to put words in his mouth – has quite a complicated relationship with that particular world," says Ritchie. "It was quite fun to make manifest."
Loading
What Ritchie finds fun to manifest is changing, however. "Your palate changes. It wasn't until my 40s that I started to like wine and now I've got quite snotty about it," he says. At around the same time, he discovered he liked the sorts of English costume dramas his own early films were supposed to have eclipsed. "I suppose the reason I like – what's her name again, Pride and Prejudice? Jane Austen – is because Jane Austen comes from the top down and I'm coming from the bottom up, looking at the world through a criminal's eye," he says. "But both of those perspectives interest me. Not so much the villainous aspect. As long as you can take some sort of sojourn into the English culture, then that's really what tickles me."