With their tiny voting membership (about 90 people), bizarrely-complicated categories, and penchant for oddball choices, the Globes do not necessarily indicate which way the wind will blow come Oscar night. But this year's nominations do make one thing perfectly clear: the argument over Netflix's right to a place at the table has been well and truly lost.
This is a genuinely big deal for the cinema business – not because of whose cabinet the statues end up in, but because of the changes Netflix is forcing upon the world of distribution and exhibition. Three of its four Globes-nominated movies (Dolemite being the exception) were released in cinemas before they dropped on the streaming platform; so too was David Michod and Joel Edgerton's excellent historical drama The King, which is not among the nominees.
They were given what is known in the industry as a "narrow theatrical window" of two to three weeks before appearing on the platform (in some cases, they continued to play long after). Typically, a film will have a 90-day window before becoming available on other platforms, enough to lure people out of their homes.
Netflix's narrow window strategy was designed specifically to make their movies Oscars eligible – to qualify, a film must have played in a cinema in Los Angeles for at least one week in the preceding calendar year – but it has had the effect (accidental or otherwise) of casting doubt over the traditional model of cinema releases, in Australia as much as the US.
Local operator Ben Zeccola of Palace Cinemas recently described the narrow-window strategy employed by Netflix, and since emulated by Amazon (with Brittany Runs a Marathon, The Report and others) and Stan (the forthcoming True History of the Kelly Gang), as an "existential crisis".
Another senior industry figure, who asked to remain anonymous, said cinema operators who embraced the streamers' terms were playing with fire.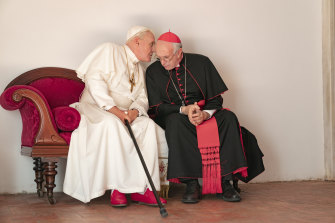 "They either don't know what they're doing or they do know and don't care," he said. "By agreeing to these terms, they're sending a message that it's acceptable to cinema owners. If all the other distributors turn around and start saying, 'fine, you can have our film for two weeks as well', this industry is f–ked. You're going to have cinemas going out of business very quickly, thousands of people losing their jobs."
Of course, Netflix and co are only in this position because they have started making the sort of
Loading
awards-bait films that the major studios are increasingly steering clear of, because those films no longer draw audiences to cinemas in the way they once did. Netflix can't really be blamed for spotting an opportunity and running with it. They ought perhaps even to be applauded for trying to find a path that keeps the option of a big-screen release open to movies that "deserve" it.
But nor can you blame cinema operators for wondering if this could be the beginning of the end. In a few years, will we be thinking that the idea of a cinema release for anything but a blockbuster is every bit as "quaint" as that Roma-related hand-wringing once seemed? Don't rule it out.
The Golden Globes will be screened live on Foxtel's Arena on Monday, January 6, from midday. The red carpet and ceremony will be live blogged by this masthead from 10am.
Follow the author on Facebook at karlquinnjournalist and on twitter @karlkwin
Karl Quinn is a senior culture writer at The Age and The Sydney Morning Herald.