Then there's Mr Darcy's Diary, by Amanda Grange, which sheds some more light on what our hero thought of Elizabeth and her family; and Longbourn, by Jo Baker, which takes us downstairs and shows us what the servants are talking about.
And have you ever wondered what happened to Charlotte, who settled for a practical marriage to the horrid Mr Collins? Molly Greeley tells us in The Clergyman's Wife.
But what did the author herself think about her life and work? Syrie James has invented a hidden manuscript, The Lost Memoirs of Jane Austen, which fills us in on her understanding of love.
Another favourite trick of novelists is to update an Austen adventure to the present day. Shannon Hale takes us to a roleplaying theme park in Austenland; Ibi Zuboi sets a reworking of Pride and Prejudice in multiracial Brooklyn in Pride; Karen Joy Fowler looks at the love lives of Austen readers in The Jane Austen Book Club; Beth Pattillo investigates the author's private letters in Jane Austen Ruined My Life; and Alexander McCall Smith introduces us to a smart matchmaking miss in Emma: A Modern Retelling.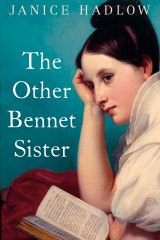 Some Austen updates get a little weird. Val McDermid has fun with teenage girls and vampires in her version of Northanger Abbey; Kathleen A. Flynn has her heroines travel back in time to meet the author in The Jane Austen Project; and romance meets the paranormal in Jennifer Kloester's Jane Austen's Ghost.
Would you rather read fact than fiction? There's an inexhaustible supply here too. Among the many biographies, Claire Tomalin's Jane Austen: A Life stands out. Deirdre Le Faye looks into her times in Jane Austen: The World of her Novels. And Dress in the Age of Jane Austen, a new book by an Australian historian, Hilary Davidson, examines what her characters were wearing. This was a project that arose out of her reconstruction of Jane Austen's pelisse coat.
Why are we so perennially fascinated with this private woman and her world? Devoney Looser, an Austen scholar at Arizona State University, has a good answer.
The beauty of her novels is that they present things in an open-ended way, she says in an interview on the Five Books website.
''That we can look at the social structures she presents so minutely and see ways that a person can make choices and manoeuvre in them – even though they aren't our structures any more – is why the novels still speak to us.''
That's the reason, Looser thinks, why Austen novels will keep their appeal for another 200 years.
Jane Sullivan's latest book, Storytime, is published by Ventura Press at $26.99.
Janesullivan.sullivan9@gmail.com