Whose side you're on in the constant bitching and bickering depends on what kind of personality disorder you find the most endearing. But no matter who your favourite is, one thing is for sure: humanity gets a little bit worse with every episode. – BP
Rachel Khoo: My Swedish Kitchen
SBS Food, 7.35pm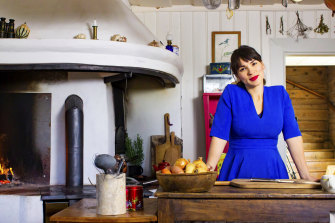 Rachel Khoo would be best known to Australian audiences either for her stint alleviating the sausage fest on MKR, or her work desperately trying to compensate for Adriano Zumbo's anti-charisma vortex on Zumbo's Just Desserts. But getting to know her on her own show, she's a lot less insufferable than those shows would have had you believe.
In fact, she's a rather sweet and gentle teacher of novel cuisine, setting up in a quaint wooden house in Sweden to show us food the way the Vikings do it. Khoo proves, as others have before, that celebrity chefs frequently shine the brightest in the simplest, most down-to-earth settings, when they're allowed to be themselves away from the flash-bangs of the big reality franchises. – BP
Trust Me, I'm A Doctor
SBS, 8.30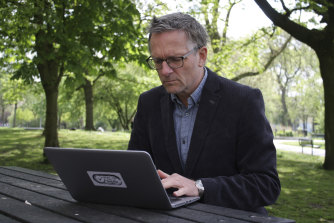 How much exercise do you need to be healthy? Michael Mosley is determined to find out, to put a stop to the tragic plight of millions who are exercising more than they have to. One hates to provide spoilers, but to avoid disappointment one is honour-bound to reveal that, tragically, the answer is not "none at all".
Mosley is a curious fellow, forever questing to uncover hidden truths about medicine. This is the beginning of the ninth season of Trust Me … and you've got to think there must not be that many medical secrets left to reveal. Is there a risk that, in promoting the idea that everything we think we know about medicine is false, Trust Me, I'm A Doctor will lead to less trust in our actual doctors?
Hopefully the actual effect is just to make us more engaged with our own health care, and more willing to ask questions to keep ourselves healthy. It's always fascinating stuff, in any case. Besides the exercise conundrum, Mosley's team in this ep also tackles how to cure a phobia in record time, and finds out whetherhot or cold drinks are better at cooling you down. As always, the answer may surprise you! – BP
TUESDAY
Foreign Correspondent
ABC, 8pm
It's incredibly unfashionable, but in the dusty corners of the television landscape, actual serious intelligent journalism continues, against the odds, to happen. The virtues of learning more about the world around us are neglected of late, but Foreign Correspondent helps to remind us of them. Here they travel to Saudi Arabia, home to a regime of almost unmatched repression and brutality, but which is attempting to rebrand as a tourist destination. What the program finds may disturb you, and make you doubt the success of that rebranding. – BP
WEDNESDAY
Doctor Doctor
Nine*, 9pm
Oh, that bad boy Doctor Hugh Knight, what is he like! Fighting to save his career, his marriage and his baby daughter, he's once again engaged in all sorts of zany and tangentially medical-related shenanigans. Kudos to Nine for maintaining faith in local scripted drama in the age of streaming but, also, their faith in local scripted drama sometimes seems a tiny bit misplaced. Rodger Corser is always good value, but Hugh Knight is not an easy chap to care about. – BP
Temptation Island USA
Seven, 11.50pm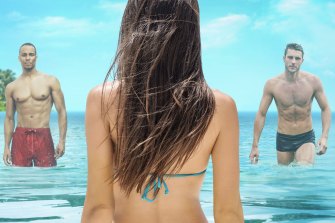 In this landmark episode of this resurrected reality zombie – brought back presumably because of a massive pro-infidelity groundswell among viewers – couples reflect on their relationships and realise that coming to the island may have been a mistake. How a single episode of Temptation Island comes to pass without exactly this happening is a deep and abiding mystery. Somehow, though, it takes six whole eps before people who've travelled to a tropical resort for the express purpose of being tempted to cheat on their partners, who are also being tempted, start to wonder whether it was a good idea. Wondering whether things are good ideas or not is an affliction that the producers of the show have clearly been untroubled by their whole lives: somehow, after three seasons of a premise that ranks as tacky even by reality standards, a show that died a merciful death in 2003 rose from the bowels of the TV netherworld. A great option for viewers who enjoy moral vacuums and empty heads in equal portions. – BP
THURSDAY
Gogglebox Australia
Ten, 8.30pm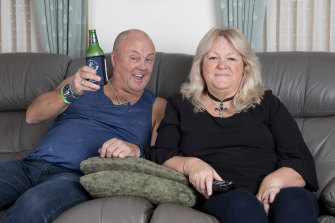 Gogglebox shouldn't work – or if it does, it should at least be the kind of show that discerning viewers "tut, tut" about while lamenting the total collapse of Western culture. In fact it is that kind of show, but only because those discerning viewers haven't given it a chance. Watching people watch TV is much more fun than it should be; mainly because the gags, riffs, and baffled expressions are so recognisable, being similar to our own reactions to the nonsense we park ourselves in front of each evening. Long may the Gogglebox reign. – BP
FRIDAY
Supernatural
10Peach, 10.30pm
The Winchester brothers have been a part of our lives for 15 years, spawning a devoted cult following – and some eye-popping fan fiction – along the way. But having repeatedly died and been brought back to life, gone to hell and escaped, and defeated the apocalypse multiple times they're hitting the road to save the world one last time. In a classic Supernatural move, that involves pursuing Supernatural's "creator", Chuck. – MH
SATURDAY
Sydney Gay and Lesbian Mardi Gras
SBS, 7.30pm
Loading
Joel Creasey, Narelda Jacobs, Zoe Coombs Marr and Courtney Act promise to bring plenty of sparkle (as if that was necessary) to the live coverage of this year's Mardi Gras. Sam Smith, Dua Lipa and Ke$ha will also be dropping by. And in a nice touch, SBS will not only be live streaming the event, they've also un-geo-blocked it, so it can be enjoyed from anywhere in the world. – MH
SUNDAY
Women's Footy Show
Nine*, 12pm
You need to be able to get past the relentless sponsor plugs but if you can do that, this cheap and cheerful sports chat show is a cracker. The women's footy in question is AFLW and there's something particularly satisfying in seeing two women who are known to most people as reality show contestants back in their natural habitat. Champion netballer Bianca Chatfield (who also happened to make a comfortable six figures on The Block) is host. Also on the panel is premiership player and gun forward Abbey Holmes (last year she made it to day 46 of Survivor and was back for the current All Stars season until the tribe spoke). And they're joined by Lauren Wood, who has never been on a reality show but has the advantage of being an experienced sports journo. Add special guests (up to and including league boss Nicole Livingstone) and the result is a thoroughly entertaining hour of smart women talking knowledgeably about all aspects of our great game. A must-see for any fan. – MH
Dancing with the Stars
Ten, 7.30pm
If you and the family want to spend a couple of hours with huge smiles on your faces, this is the show for you. Somehow Ten has managed to not just breathe new life into an aged format, it's managed to attract genuine star power to the shiny floor. We actually want to see people like Claudia Karvan, Dami Im and Ed Kavalee succeed. We also want to see some good dancing – and while some are a little clumpy-footed at the moment, several have plenty of potential. This is one of those rare reality shows that actually rewards skill. It is also a show (again, quite rare in reality-world) that rewards niceness. – MH
*Nine is the owner of this masthead.