By the same token, she has no issues with the commodification of what once was deemed an urban blight. "People are using the paintings as a backdrop for selfies, but I don't really mind that," she says. "They're looking at it, they're liking it. Maybe for some of those people it'll be their introduction to graffiti, it'll cause them to pick up a spray can, or to look at it more closely."
Cooper began photographing the graffiti that was springing up all over New York in 1978, confident she had found a subject few others were interested in. The authorities hated it, and so did most publishers and editors, but she kept at it for five years, taking thousands of photos.
She felt confident the phenomenon was destined to be fleeting, regardless of its artistic or social value. "What I didn't know was that graffiti was going to spread around the world and continue."
Cooper had a major hand in that. In 1984, she and fellow photographer Henry Chalfant published a collection of their photos as Subway Art. Initially just 3000 copies were printed – in the UK, because no one in the US was interested – but it has since become a sacred text for taggers and street artists around the world.
Though it has been reprinted countless times, in three different editions, "it's not a cash cow," Cooper says. "We have a terrible contract."
Are you at all bitter about that?
"Not really, because it's led to so many other things. I wouldn't be here today if it weren't for Subway Art. We're on the street art circuit, we get invited to festivals all over the world – what's not to like?"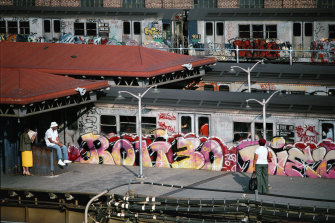 OK, there is one downside. "I wish people would look at some of the other things I've done," she says, referring to the 20 or so other books she has published – including for children and collections on Carthage and ancient Tunisia. "But I think the positive far outweighs the negative."
Miles' film depicts Cooper as a trailblazer, slugging it out in a man's world where the art department at the New York Post would add cleavage that didn't exist to her shots of female athletes. Cooper simply laughs at the memory.
Among the many things that have changed since then is the democratisation of media, and photography itself.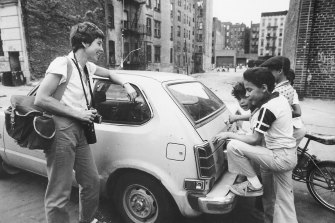 Cooper is a huge fan of Instagram. "What I like is that it gives me the power to take a picture and post it without having to ask anybody. I don't have to contact publishers, I don't have to write a proposal, I don't need to get funding for it. Boom. I can just stick it there, and that's very satisfying."
Of course, everybody thinks they're a photographer now – and to a degree, they are. But Cooper has no issues with that either. Whereas people used to tell her they'd taken up graffiti after seeing her book, she says, "now they are saying, 'Thank you so much, I started photographing because of you'.
"That's heart-warming," she adds. "I like that idea, that they wanted to start taking pictures because of the book."
Karl Quinn is a senior culture writer at The Age and The Sydney Morning Herald.