The loss of Picasso's great foil and rival hit him hard
The idea of pairing the two greatest artists of the modern era is not especially original. The definitive version – Matisse Picasso, in 2002-03 – was a joint production of London's Tate Modern, Paris' Grand Palais and New York's Museum of Modern Art. The idea has been revisited many times in books and smaller exhibitions.
It would be absurd to expect the NGA to match the standards set by that magisterial first show. The display is built around the gallery's own holdings of Matisse and Picasso of mostly prints and drawings plus costumes from the Ballet Russes collection. The NGA owns only a single painting by Matisse, The abduction of Europa (1929), and a small constructed picture by Picasso, Still life with mask (1937). Those works have been supplemented by loans from public and private collections.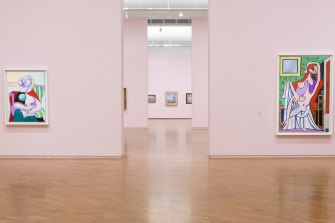 From the Art Gallery of NSW comes Picasso's Nude in a rocking chair (1956). The National Gallery of Victoria has been tapped for Matisse's ever-popular Reclining nude on a pink couch (1919). The Queensland Art Gallery has been generous in allowing both Picasso's Woman with parasol on the beach (1933), along with arguably the masterpiece of its collection, his La belle Hollandaise (1905), to travel to Canberra. Kerry Stokes beats all the local lenders, having contributed three works by Picasso and one by Matisse.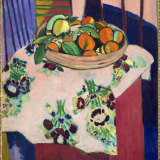 The most impressive loans have been drawn from international museums such as Paris' Musee Nationale Picasso, Tate Modern, New York's Metropolitan Museum of Art and other venues in the United States, Europe and Brazil. Some of these pieces are new to Australia, some have been seen before.
The obvious stand-outs are four works from the Musee National Picasso. The earliest is Still life with pitcher and apples (1916), a much celebrated work.
The NGA has maximised the impact of two key pictures by juxtaposing them: Picasso's savage portrait of his wife, Olga (Large nude on a red chair, 1929), and Reading (1932), one of his most luscious portrayals of Marie-Therese Walter, with whom he was having an affair as his marriage disintegrated.
The fourth work from the Musée National Picasso is possibly the greatest Matisse painting in the show is Still life with oranges (1912), which now also resides in the Musee National Picasso. One can imagine even Picasso being dazzled by this picture which takes amazing liberties with colour and form.
Director Nick Mitzevich has a reputation as a skilful hanger of exhibitions and this is an area where Matisse & Picasso excels. The walls have been painted in pale, unusual shades of pink and blue. It's unorthodox but works brilliantly. Curator Jane Kinsman, who is retiring after this exhibition, has arranged images in a way that teases out many unexpected relationships.
As we saw with the NGV's successful Van Gogh show of 2017, intelligent exhibition design can compensate for a shortage of indubitable masterpieces. If visitors to this show are willing to accept a large percentage of works on paper, they'll find plenty to like.
Ultimately this is one art event in which content is not make-or-break. For the NGA, the appeal of this exhibition will be predicated on two magic words: "Matisse" and "Picasso".