Yet at first glance, the world of his Punk Rock is about as punk as Hogwarts. It's set in the old library of an exclusive English grammar school, a hermetically sealed capsule populated by a small group of outrageously privileged teens. They're in that bubble that forms as graduation from school approaches and the horizon of adulthood draws closer: as much as they think they've got things figured out, from the outside their hunger and anxiety and vulnerability are painfully apparent.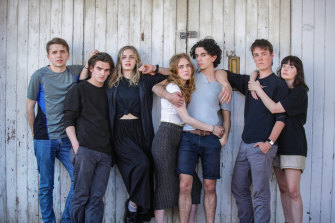 The play is an ideal fit for Patalog Theatre, whose members are barely older than the characters they portray. As with other tales focusing on the travails of teens – from Lord of the Flies to Spring Awakening – no adults ever make their way into the library. "It's like a Petri dish of the madness and oddity of adolescence and desire," Stephens says.
The lack of adult presence was a deliberate choice: "I was fascinated by the degree to which emotionally we were raising a culture of orphans. In the sense that some of the fundamental intellectual, social, cultural ideas that had defined my parents and even my generation had disappeared and nobody believed in anything any more."
The school in which the play is set is based on a real one in Stockport, the town in which Stephens grew up, but it's not the one he attended. "I went to the state school, an all-boys comprehensive school. Across the road from my school was this grammar school which was actually one of the oldest schools in England. It's existed since the 14th century. I've never been in it. I've still not been in it to this day, but it was the posh school where the kids with money went and where a lot of the bright kids went."
That haven of privilege always lingered in his imagination, but it was only after he began to find fame as a playwright that he made his way into the rarefied realms that moulded his country's upper crust. "It would be quite strange, I'd get an email saying 'would you like to come and speak at our school for 15 minutes, then you can have dinner with the students and we'll pay you £300?' I was like, f— yeah! Fifteen minutes and some nice dinner and then get the train home?"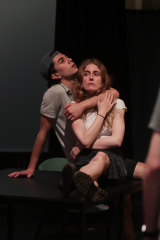 What he found in those institutions surprised him. He arrived with the assumption that he would see children with "the assurance and confidence and sense of happy entitlement that in the political sphere those kids would eventually be born into. But actually when I spent time with the kids I saw as much frailty, vulnerability, fear and vanity as I'd seen in the kids I had been in school with in Stockport."
The teens of Punk Rock, then, are both fascinating alien specimens preening and strutting around their gilded cage, and familiar figures whose co-dependencies, betrayals, power plays and violence are familiar to a much larger audience.
Even though it's only a decade old, it's gratifying to see that none of the cultural references littering the play have dated it. Even younger audiences won't wrinkle their noses at mentions of Kanye or The White Stripes, and despite the elite (and elitist) setting, the characters speak to broader types.
"I think the criticism of the play might be that it's built on stereotypes," Stephens says. "A word I'm happier with would be archetypes. I think kids recognise the archetypes, in the same way that you watch The Breakfast Club and go 'who am I in that group?'"
If there's one great danger to writing teenage characters, however, it's that teenage audiences are intensely critical of portrayals of their own kind as written by their elders. There's little as cringeworthy as a grown-up trying to write adolescent dialogue and getting it wrong.
Stephens wasn't perturbed by the challenge, though, and not just because he has three kids of his own. "I think you can end up in that slight pickle that a lot of young artists are in now, which is that they feel like they're only legitimately allowed to write about experiences that they've directly had themselves. I think that's a naive perception of our relationship to our own experiences, because I couldn't possibly describe or understand even the experiences that I've lived through myself. Given that that's impossible, you may as well make shit up."
Punk Rock is at fortyfivedownstairs, December 4-15.