With better sound, sightlines and genre diversity, the two smaller stages offered a welcome alternative. There's also a feeling of looseness and spontaneity that is missing elsewhere: crowd-surfing, tossed tinnies and a tree-climbing punter are all accounted for during a raucous set from Sunshine Coast faux-gan punks the Chats, who dish out laughs and air-punch singalongs with Smoko and Pub Feed.
Also benefiting from a smaller stage is Brisbane's Hatchie, one of the festival's highlights thanks to a stellar set of songs that all sound like they've been written for the prom scene in every '80s teen rom-com ever. As deserving as she may be of the main stage, you wouldn't want to witness her joyous set while lost among a sea of people.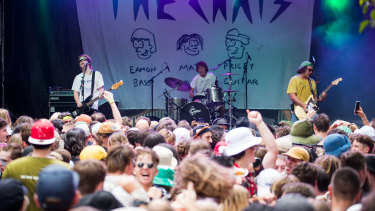 Later, the skies open and the rain predictably makes some people go a bit stupid: shirts are removed, people belly-slide on the grass and one brave punter pulls off a backflip while standing in a pool of mud. For a festival organised to within an inch of its life – being 16+ means designated alcohol zones restrict you from getting near a stage with a drink in hand – the chaos is welcome.
Back on the main stages it's a mixed bag: Ocean Alley are a competent but largely mediocre chill-bro pub band who have lucked their way into a headline slot. Ruel wows the crowd despite the disconnect of seeing a lanky 17-year-old white kid sing lovelorn R&B jams. King Gizzard & the Lizard Wizard wake the drenched masses with a thrilling set of thrash metal and psych-rock.
Those who stick around to brave the storm are rewarded with hit-heavy sets from headlining British pop acts Charli XCX and the 1975, the latter providing the event's biggest flex by performing half a set on each of the side-by-side main stages.
As the soggy masses file out, there's a sense the rain's not the only thing to put a dampener on Laneway 2020. The line-up may not have been as strong as previous years but it's the new location that has caused Laneway to lose whatever it was that made it stand out from the festival pack.