Today Show host Karl Stefanovic also popped his head in with son Jackson – as did the paparazzi, to take photos of Married at First Sight couple Martha and Michael.
"We're hoping to raise something in the six-figures," Tran said ahead of the event, which included donations from Albus Lumen, Mode Sportif, Michael Lo Sordo, Flight Mode, Bondi Born, In The Round House and many more.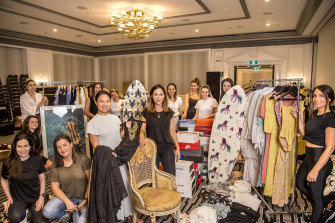 By 4pm the Kristen Fisher Eyebrows market had raised an impressive $250,000. Kristen and Alyce, and their friends, family and volunteers, couldn't be prouder of their achievements.
"The efforts of everyone involved has brought out the best in people and I'm so proud of what we have accomplished," Fisher told Emerald City.
They group has pledged all funds raised at the market will go directly to the Australian Red Cross, WIRES Wildlife Emergency Fund, the New South Wales Rural Fire Service and Wildlife Victoria.
Double Bay's Belinda undergoing six-figure facelift
Luxury fashion boutique Belinda is currently undergoing a facelift. Emerald City spied the Double Bay store front in exclusive Transvaal Avenue in the midst of renovations.
While the suburb isn't short of customers who have had a facelift themselves, it's understood this will be the first time in 25 years Belinda has taken a refresher. Co-owners Jacky Yenken and Joshua Penn – who also owns neighbouring Palmer and Penn homewares boutique – are understood to be spending a pretty penny on the interior makeover.
"I'd say the renovation will be in the six figure range," a well-placed source told Emerald City. "Josh's husband Ben Palmer is doing the store's interior – it will resemble a high-end boutique you'd find in Avenue Montaigne in Paris." the source added.
Stocking an exquisite collection of the latest styles and fashions from the world's leading designers, the Belinda boutique is tipped to add Bottega Veneta, Stella McCartney and Moncler when it re-opens at the end of the month.
Its sister store in Melbourne's Hawksburn Village exclusively stocks Victoria Beckham, The Row and Oscar De La Renta.
Celebs slam their doors on MTV Cribs Australia
In the 2000s we loved to tune into MTV Cribs to watch Hollywood types show off their vulgar homes boasting memorabilia rooms, waterfalls and basketball courts.
But when it comes to American reality shows bringing their successful formula to Australia, it seems local celebrities are too private – or they just aren't interested.
The Aussie version of MTV Cribs is having something of a casting crisis, according to sources close to program, with producers are struggling to find big names willing to let a camera crew into their home to show off their bourgeois lifestyle.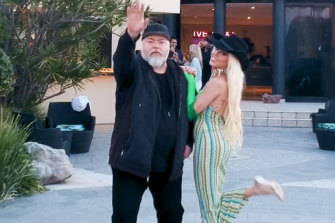 There was one notable exception, of course. Last year KIIS FM host Kyle Sandilands and his then girlfriend Imogen Anthony were happy to welcome the snappers into their five-bedroom rented mansion in Mosman. It featured a life-size giraffe, Wiccan altar and unforgettable Versace bedspread.
It's understood former cricketer Michael Clarke and his wife Kyly were approached to appear on the local production of MTV Cribs, but declined despite being offered an appearance fee.
And judging by the ratings, Aussie viewers are more interested in reality shows such as My Kitchen Rules, Married At First Sight and local productions of The Bachelor.
Lucy Manly is a reporter and gossip columnist for The Sydney Morning Herald and Sun-Herald.