"It's not Mulder and Scully, that's for sure," Leslie says, highlighting the huge differences between his and Emma Booth's characters to regular TV detectives such as The X-Files' famous pair.
"I mean the very first time you meet my character, he's popping pills in his car, which obviously if you're a cop, carrying a gun, is something you're definitely not allowed to be doing!
"And the same with Emma's character, you meet her breaking into a guy's house… then she goes home and she drinks all night then rocks up at the crime scene."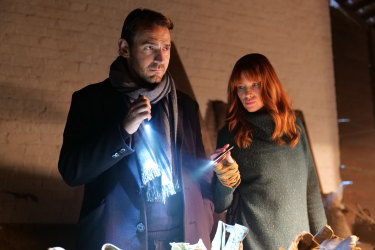 O'Connell, we soon learn, has only reluctantly returned to Tasmania after the traumatic incident in his past that still haunts him. Similarly, McGee has turned her back on the world – including her own family – as a coping mechanism.
That both still chose to immerse themselves in the police world despite what they endured just adds another layer of intrigue to their characters.
"That's what I loved about this from the start," Leslie says. "It's not your average police procedural."
What this production is however, is a uniquely gripping drama that crosses decades to weave a mystery that engulfs an entire town.
Suspects pop up at every corner, just who the good guys and villains are changes depending on point of view and an unsettling air hangs over everything in a way usually only seen in atmospheric European dramas such as The Bridge or The Girl With The Dragon Tattoo.
Similarly, the wild Tasmanian highlands of The Gloaming are just as important to the plotlines and characters in setting the tone, signature of series' creator and writer Vicky Madden's style, as seen in the iconic The Kettering Incident.
"I think with a lot of the Scandi-noir crime we've had over the past few years, Victoria Madden was very aware that the landscape always played such a massive part in those shows," Leslie said.
"So, she always said Tasmania was the main character of the show and it's such a haunted landscape.
"You kind of arrive on set to shoot a scene and look around and go: "Oh right! Right! I totally understand why this show is set here!"
From the tangled rainforest where the murder victim is found to the gothic mansion where O'Connell and McGee's childhood ended, the setting of The Gloaming helps create an air of tension where murder seems right at home.
"It doesn't look like an Australian show," Leslie says.
"It's shot in a part of the world we don't normally see so I think for people around the world it won't look like an 'Australian' show, which is really exciting."
Alongside Leslie and Booth, a cast of Australia (and New Zealand)'s best actors round out the crime thriller as those who are investigating the two crimes and those who are caught in their web.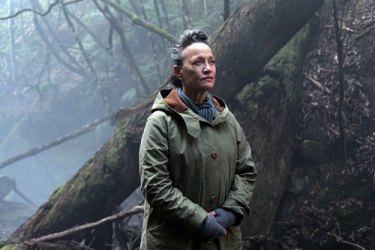 Aaron Pedersen (Jack Irish, Mystery Road) plays the chief of detectives, who doesn't want to know about O'Connell and McGee's past as long as they can do their jobs; Martin Henderson (Grey's Anatomy) plays a local property developer with a connection to McGee neither are willing to admit; and Rena Owen (Once Were Warriors) is a spiritual teacher hoping the ghosts from her past don't make it into the present.
They're all parts of a multi-layered puzzle which could tear the quiet Tasmanian community apart, Leslie says and what makes The Gloaming so complex.
"We talk about haunted characters and a haunted landscape, but really the story is you've got this modern-day crime and you've got this crime from the past and the two are sort of running parallel and getting closer and closer together," Leslie says, "and eventually they're going to collide.
"I think it's really going to tock a lot of boxes for people and they'll really enjoy it!"
Every episode of the Stan Original Series The Gloaming is now streaming, only on Stan – Australia's unrivalled home of original productions.
Scott is a contributor for the Sydney Morning Herald and The Age