Even the show's handling of the "expanded universe" – a storytelling notion that Star Wars gave us but that other story spaces, notably Marvel and DC Comics, have replicated – is done with great precision. The superficial touches that will make fans smile – scavenging Jawas, Mandalorian temples, stormtroopers and subtitled Huttese, the preferred language of space gangsters – are there aplenty.
On the cinema screen Star Wars has struggled to produce clear non-Skywalker family narratives. But in spite of its relative infancy, as Disney's first standalone foray into live-action Star Wars storytelling for television, The Mandalorian somehow manages to deliver something more structurally cohesive and emotionally thoughtful than all of the sequels, prequels and cinematic minutiae which have come in between the original Star Wars trilogy and the present day.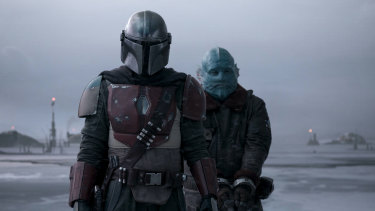 Favreau is as brilliant a fanboy writer as he is a fanboy director, and in Filoni, a true padawan to Star Wars creator George Lucas, he has found a great collaborator. Between them they might have simply made a great TV show. And yet, here, there is something more. In its fine print – Werner Herzog as "the client", "Baby Yoda" as the internet has dubbed it, the Crusade-like complexities of the Mandalorian faith, Ludwig Goransson's compelling soundscape – The Mandalorian is both unexpectedly fresh and edge-of-your-seat thrilling.
Star Wars is a hard nut to crack open. Getting it right means dancing along a perilous algorithm, first created in our childhood, when our judgment was dulled by spectacular space dogfights and the clash of duelling lightsabers, replicated in the world's backyard using broom and mop handles. It is likely nothing will ever match that. But The Mandalorian comes stunningly, unexpectedly, brilliantly close.