"In a theatre, if you're throwing stuff around, literally throwing stuff at the audience sometimes, and getting very messy myself and the walking into the audience and talking to people, it feels naughty," McCormick says.
"And people find it a bit of a thrill thinking, 'Oh God, this is going to be a nightmare to clean up afterwards'.
"But, even just as a visual metaphor, seeing a quite hyper-feminine woman looking ruined or covered in mess is an interesting and relevant visual metaphor for me."

Triple Threat, which opens at Carriageworks on Wednesday, features McCormick as a larger-than-life, pop-star narcissist primarily playing Jesus Christ. Using razor-sharp songs and dance routines, explicit symbolism and audacious humour, she recreates the patriarchal history of religion.
"On the one hand it is just a comedy, and I do have that slight addiction to getting the laughs, but there are a few elements to balance that out," she says.
"There was something about the glory and the epicness of going, 'Right, I will retell the New Testament', that was so absurd and so stupid that it just frees you up. It's just stupid enough for me to enjoy it."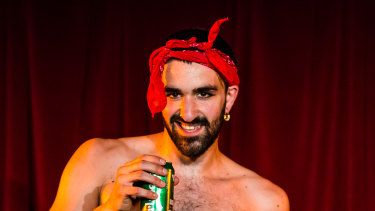 Triple Threat, a theatrical term describing a performance that involves singing, dancing and acting, began as a series of seasonal cabaret acts in London and Glasgow queer clubs.
In 2016, McCormick took it to the Edinburgh Festival Fringe where, directed by Ursula Martinez, it achieved cult status, received five-star reviews and was launched into tours of the UK, Europe, and North America.
Her follow-up show, Post Popular, which looks at famous women in history, has similar themes of searching for identity and issues around women's choices.
"The shows give me the opportunity to try out different versions of myself, be they versions I feel pressured to be or I'm told to be," she says.
"I'm sort of peeling away the options. I literally take on these characters, these really epic narratives, and put them on myself and ask, 'How does this work for me?'
"It comes from a feeling of being a bit lost. Probably everyone feels like this, but especially for women, you feel these expectations upon your body, upon yourself, that don't necessarily feel comfortable or right to you."
With the show's move from queer clubs to mainstream venues, audiences have diversified dramatically.
Loading
"I think it's really cool I can see people who I know make drag performance art in East London basements and then see nitty-gritty, middle-aged theatregoers coming as well," McCormick says
"More people are coming to see it who really don't know completely what they are walking into."

Lucy McCormick: Triple Threat runs until January 19
Lenny is a writer and podcaster.