"While this has been a challenging time, we are excited and confident that Theatre Works will continue into the future with a solid foundation and a new vision for the future," Ms Toulson said.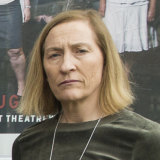 "The past two years has been a period of consolidation … We will continue to work on our organisational sustainability, to ensure we are best placed to support our independent artists into 2020 and beyond."
Theatre Works will launch its 2020 season on Saturday, December 7, at its Acland Street venue, with music, an adult-sized jumping castle and "inflatable sumo wrestling", among other entertainment. Funds raised from ticket entry (from $5) will go towards delivering the program.
While Theatre Works will have staged 28 productions by the end of 2019, when asked whether it would need to reduce its output next year Ms Toulson said: "It's 2020 and I reckon 20 is a good number."
She thanked Ms Willet for her support to the institution over the past five years as chair.
Loading
"Ros has been a galvanising force during her time with us, achieving an enormous amount," Ms Toulson said.
"She has supported the delivery of a strong strategic vision and plan and revitalised the Theatre Works community. We are very grateful to have had Ros with us during a critical period of development and planning."
Board member Lauren O'Dwyer will take over as interim chair, while Theatre Works has flagged it will be looking for new board members "with skills sets that meet identified need".