The audience member asked the panel whether they thought, in light of our "uncertain future", it was appropriate for people to continue to procreate.
"It's really overwhelming, I'm terrified, [but] I have to use the anxiety I feel to act," Stone said, breaking down in tears. "I do totally hear your question, and I would love to have another kid, but it's hard."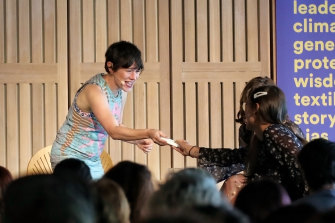 Stone, who was raised in Sydney but now lives on the South Coast, then appealed to the audience for a tissue.
"I know coronavirus is real but I need a tissue," she said with a laugh.
The comments were made at the All About Women festival's "Green With Rage" panel, which also featured Jean Hinchliffe, a 16-year-old School Strike 4 Climate organiser, and Amelia Telford, the national director of the Seed Indigenous Youth Climate Network.
Loading
Stone made headlines in January when she announced she would no longer be splitting her professional life between the US and Australia in an Instagram post.
"From the very privileged position of having been granted a green card for the USA I have decided it's environmentally unjust to pursue a life across two continents," she wrote alongside a video filmed at her parents' Rozelle home, where she had evacuated to multiple times over the summer.
"Australia will be home and when I have to travel for work I will be investing in [solar power charity] FEAT."